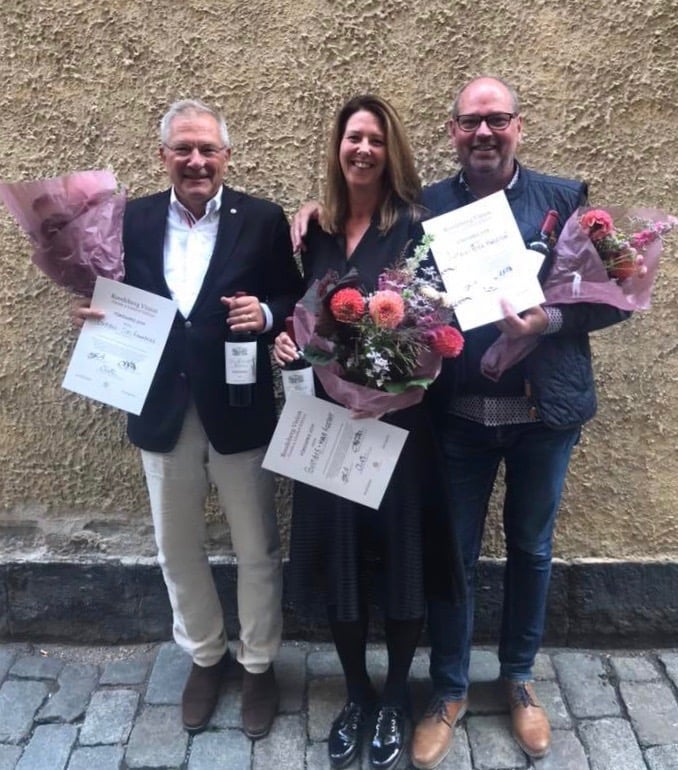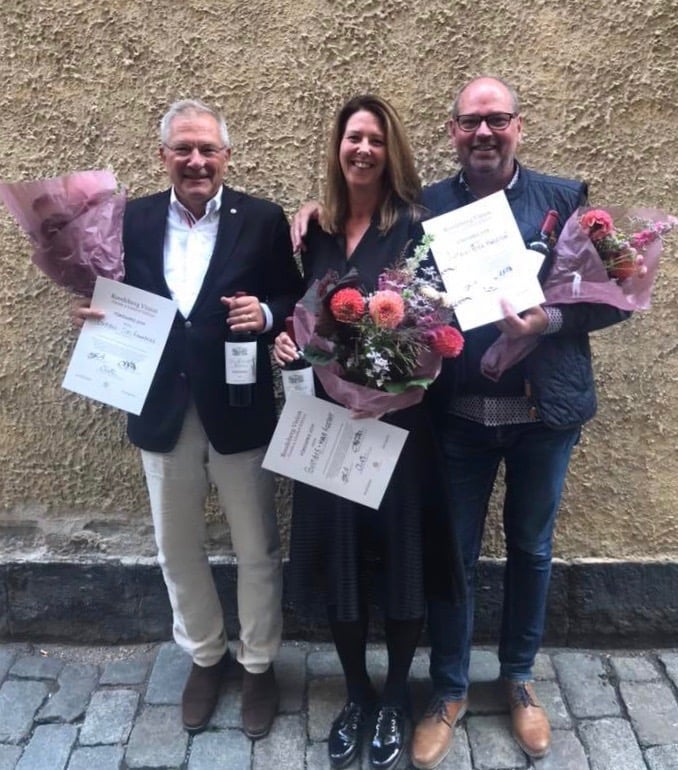 Marie Vigetoft, Clas Runnberg och Peter Harletun från Gustibus Wine & Spirits Academy i Malmö tog hem segern i årets blendingtävling Roodeberg Vision.
Roodeberg Vision avgjordes på 19 Glas Bar och Matsal i Gamla Stan, Stockholm. Årets jury bestod av Wim Truter, chefsvinmakare på KWV och Madeleine Stenwreth, Master of Wine, som under dagen bedömde 10 unika blends.
– I would like to highlight how impressed I was with every team's insight and engagement. That made it fun and interesting but also challenging to judge, säger Wim Truter.
Sommelierer, restauranger, journalister, studenter och Munskänkare från hela Sverige fick under en timme skapa unika blends bestående av fem olika komponenter. Deras uppdrag var att skapa ett vin för framtiden baserat på den ikoniska stilen i klassiska Roodeberg.
– Hela teamet upplevde tävlingen som fantastiskt lärorik, utmanande och inspirerande med värdefulla insikter från chefsvinmakaren Wim Truter. Vi försökte hitta en tolkning som överensstämde med traditionen i Roodeberg samtidigt som vi ville utveckla och sätta en egen prägel med vårt vin. Vi tycker verkligen att vi fick till en livlig och lekfull blend som samtidigt bygger på Roodebergs klassiska kvaliteter, säger vinnarna av Roodeberg Vision.
– The winning team came out on top because of the absolute intrinsic quality of the composition but also very importantly because of their vision. Building on the strong heritage and tradition of Roodeberg but giving it a new dimension. In a sense encapsulating the past, present and future of the blend – classic, complex and elegant but with a vibrancy to match, säger Wim Truter.
I det prestigefulla priset ingår en resa till KWV i Sydafrika i november där Marie, Clas och Peter får vara med och producera sitt eget vin där de kommer att vara involverade under hela processen i vineriet. Vinet kommer sedan att lanseras i Magnumflaskor med en upplaga om ca 800 flaskor på Systembolagets beställningssortiment nästa år.
– Vi på Gustibus Wine & Spirit Academy är otroligt stolta över vårt team. Under utbildningens gång kommer vi ständigt tillbaka till betydelsen av blandningar – "varje vin är en blend". Redan i början av kursen får de praktiskt erfara hur små förändringar kan få stora konsekvenser. Att prova mycket vin och systematiskt analysera ger resultat. Vi ser fram emot att få prova vad Peter, Clas och Marie producerar under sin resa i Sydafrika, säger Anders Öhman VD och utbildningsledare på Gustibus Wine & Spirit Academy.
Blend motivation: We have created an inviting, relaxed wine everyone can enjoy in front of the fireplace or with food in the company of good friends, based on the proud tradition of rich and intense Roodeberg blends.
Final blend: 35% cabernet sauvignon, 35% shiraz, 25% petit verdot och 5% petite sirah
Roodeberg Vision är ett samarbete med Arvid Nordquist Vinhandel, DinVinguide.se och KWV.